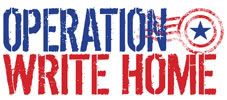 This is the beginning of a weekend long blog hop! Yes!
Helping to support and educate other crafters about the wonderful folks at Operation Write Home (OWH) and what they do for our troops deployed. Here's a copy of their mission:
Their card makers website
Their blog
Remembering all of our servicemen and women this holiday weekend as we work toward a unified country, defending freedom and our basic constitution while we assist other countries in their dreams of democracy and freedom.
I've always been a proud American, proud to live in this country and proud of our way of life here. I believe this country was founded on Christian principles by men and women who would lay down their livesd for that which they believed in and that which God empowered them to do.
I support OWH by sending handmade cards to their distribution points to be sent to the men and women deployed to use to keep in touch with their family back here in the States. God bless them, their families, our fellow card makers and GOD BLESS the USA!
Of course I am one of hundreds of crafters that support OWH, so please follow our blog hop/circle today by visiting
Kristen at her blog named KAH-Wink-E-Dink Digi Stamps
, she'll direct you to the next wonderful crafter on board for this fun and inspiring craft hop!